Drytac to showcase new look and unrivalled choice of products at FESPA 2018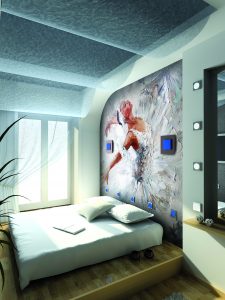 Bristol, UK; May 3, 2018: Drytac, an international manufacturer of self-adhesive materials for the large format print industry, has announced its plans for the upcoming FESPA Global Print Expo 2018 show, taking place in Berlin, Germany, between 15th and 18th May.
With updated branding, Drytac will be showcasing its new look alongside innovative additions to its key product lines in Hall 1.2, stand C40. New products on show will include Drytac's ColorCapture range of wallcovering products designed to allow customers to pick and mix the perfect media solution for their application, plus additions to the SpotOn and Polar media portfolios.
Drytac's new ColorCapture range has been designed to allow customers to create the wall décor media to best suit their specific requirements. ColorCapture matches the ideal adhesive solution with various textured wallcoverings to create a solution for virtually any application.
ColorCapture offers multiple wall graphics options, including a line of paper fleeced embossed wallcoverings with a choice of ivory, canvas, sycamore and leather finishes. It includes a range of embossed PVC wallcoverings, which includes the ReTac® Textures line up of canvas, linen, sand and wood textures. In addition, there is a line of woven polyester wallcoverings, which features FabrikTac™ woven fabric film and a line of non-woven polyester wallcoverings featuring SynTexture™ synthetic textured wallcovering.
Additionally, ColorCapture offers four adhesive options that have been engineered to be paired with each face film, including water activated adhesive, permanent adhesive, removable adhesive and ReTac®, the ultra-removable and repositionable adhesive.
All the fleece products are tear-resistant, shrinkage-free and certified to conform to European M2 fire-rating standards.
Shaun Holdom, Global Product Manager for Drytac, explains: "This is real revolutionary thinking from Drytac. Our manufacturing expertise and flexibility allows us to put the customer very much in control by offering an unrivalled choice of media in exactly the configuration they need for the job.
"Any combination of these elements can be selected to deliver a customised solution to meet a specific requirement. Customers have never had such a broad and flexible choice from one range."
Other new products on show on the Drytac booth at FESPA include a new addition to the SpotOn family – SpotOn PET. This printable 75µ polyester film is suitable for all UV printers and incorporates Drytac's unique SpotOn adhesive technology which enables the easy application and clean removal of window graphics.
Drytac is also launching Polar Burst, an ultra-reflective 95µ PVC film designed to deliver the most eye-catching graphics. This PVC film is designed for high end signage and retail applications and has a removable adhesive on the back, leaving no residue.
Drytac will be supporting many of the major machine vendors by donating a variety of its leading media products for live printing demonstrations. Additionally, Drytac's SpotOn Floor 200 will be used by FESPA for the floor graphics throughout the show venue. This printable film is easy to apply and remove – thanks to Drytac's unique dot-pattern adhesive – and is non-slip-certified, without the need for lamination.
FESPA will also be using Drytac's printable, repositionable and removable ReTac 150 film, with ultra-removable adhesive, for graphics on its information booths around the show. With a Class 0 fire rating, it is ideal for applications in public areas that require compliance with strict fire regulations.
FESPA Global Print Expo 2018 takes place between 15th – 18th May 2018 in Berlin, Germany. For further information, please visit: https://www.fespaglobalprintexpo.com/welcome/Why_Visit/visit-fespa-2018