Cardiff University's in-house print department printed more than 40,000 signs to prepare the campus for students and staff – the majority on Drytac SpotOn wall media.
Cardiff University's Print Services worked around the clock to prepare the campus for the new academic year, including printing thousands of social distancing graphics on Drytac professional self-adhesive media.
The university has benefited from an in-house print service for over 30 years, originally called Graphic Services and recently renamed Print Services. It fulfils all manner of printing needs, from business cards, flyers, booklets, stickers and posters – both academic and advertising – to pop-up banners, mounted poster boards, wall displays and floor graphics. It also provides laminating and thesis-binding services.
During the summer of 2020, Print Services was presented with a new challenge: to help prepare the entire Cardiff University campus for the new academic year in line with COVID-19 guidance on social distancing.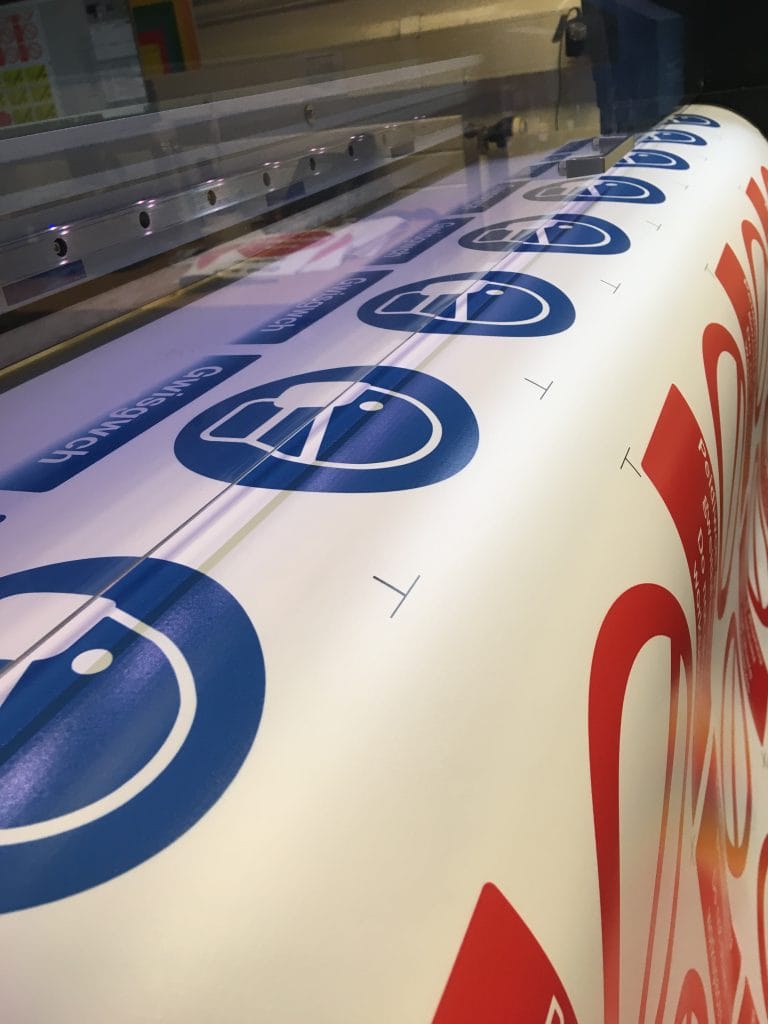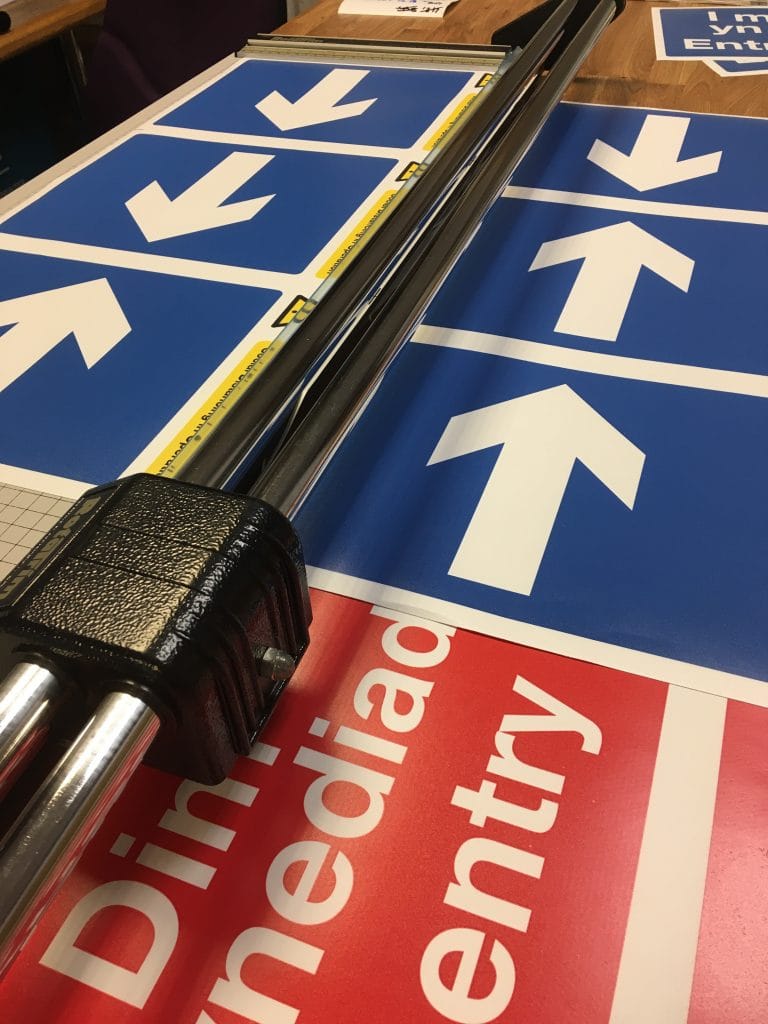 "From July onwards we were printing pretty much non-stop in order to help the Estates division get the 200-plus buildings on campus ready for re-occupation and re-opening in time for the autumn semester," says Gareth Middleton, Senior Print Services Assistant, Bute Print Unit, Cardiff University.
"By our rough estimations, in that time we printed somewhere in the region of 2.5 to 3sq km of signage – more than 40,000 items. The majority of these were A4 wall signs which were printed on Drytac SpotOn and then guillotined or cut by hand from the roll."
As well as the unprecedented amount of work that needed to be completed by the end of September, the print team had other hurdles to overcome.
Gareth explains: "Due to the campus being locked down and restrictions on building occupancy, only two of us were granted access to our unit in the Bute Building where the wide-format machines live. Added to this, that building was undergoing a massive refit and renovation project so rather than our usual peaceful (especially in the summer!) leafy campus setting in Cathays Park we had to work out of the middle of a building site!"
Cardiff University Print Services chose Drytac SpotOn White Matte, a 100μ (4 mil) vinyl film designed for short-term applications such as wall displays. Also available in White Gloss, Clear Gloss and Clear Matte finishes, SpotOn features Drytac's innovative 'dot pattern' adhesive that enables easy bubble-free application without tools, and clean and simple removal.
"All the wall signage is being used internally and – hopefully! – for the short to medium term," says Gareth. "Drytac SpotOn gives a great solid, vibrant finish using our Roland TrueVIS VG-540 and is quick and easy for the Estates team to handle and apply in large quantities."
Gareth adds that the print team also uses the Clear Matte version of Drytac SpotOn.
"It's great for all the same reasons as the SpotOn White, plus the added advantage of being able to mount it on the inside of windows or on glass screens without blocking out all the light."
With social distancing expected to continue for the foreseeable future, Drytac has ensured its factories in the UK and North America have been working to meet unprecedented demand for graphics media for wall displays, floor graphics and other applications.
---
To meet these new social distancing requirements, it is important to use the right graphic media for each job. Understanding the location of the graphic and the surface it will be adhered to is key. Download our Social Distancing Graphics Guide now!
---
We offer the correct ratings and insurance backed warranties to make your life easier. With hundreds of certifications on our print media and laminates we'd be happy to help you plan your next project.
Download the Drytac Floor Graphic Guides to help you select the proper floor material and navigate various environments.