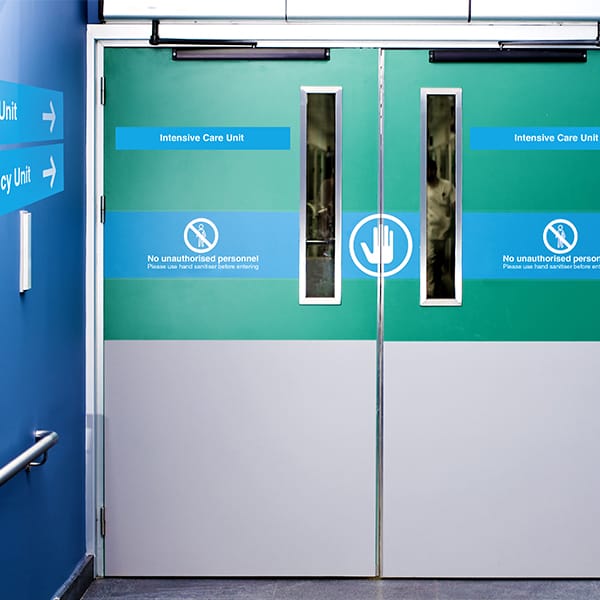 Our antimicrobial surface protection film with added Microban® antimicrobial technology offers reliable protection from mould growth and bacterial contamination, including COVID-19, MRSA, Streptococcus, E.coli, Salmonella and more. With a 15 year durability, this antimicrobial film is ideal to keep your high-touch traffic surfaces cleaner longer.
Protect your surfaces with 15 years of protection from our Antimicrobial Film!
The Antimicrobial Film is a 150µ (6 mil) textured polyester film incorporating Microban antimicrobial protection. When microbes meet the Microban reservoirs in the film, the cell wall of the microbes is disrupted. The result is a film surface providing constant additional protection against the spread of microbial contamination which is cleaner and fresher.
Protection against mold growth & bacterial contamination
The Antimicrobial Film offers reliable protection from mould growth and bacterial contamination, including MRSA, Streptococcus, E.coli, Salmonella and more. Protac AMP Film is ideal for use in environments where hygiene is of particular importance, such as schools, nurseries, restaurants/cafeterias and hospitals.
Microban® protection
Ideal for preventing the growth and spread of bacterial from on touch surfaces, counters, control panels, door plates, switches and equipment. The primary purpose of including Microban is to protect the film itself and to increase its effective lifetime against attack from Mould and Mildew. Normal cleaning and sterilisation practices should still be adhered to, in order to remove potentially biologically active challenges such as aerosol droplets from breathing etc.
View our frequently asked questions: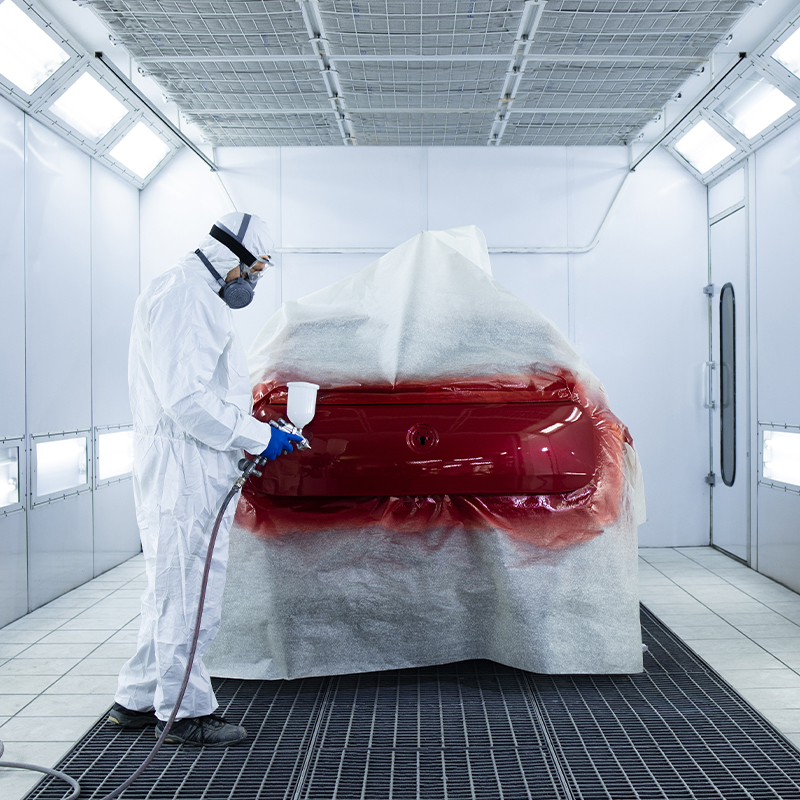 Surface protection is vital when working in confined spaces. We consider it an essential requirement in today's industrial space, where day-to-day operations create a stronger need for films that provide a protective coating. Drytac's ProTect Spray Booth Liner can accomplish this task, adding a protective layer that shields against harmful contaminants in spray booths.
ProTect Spray Booth Liner consists of a 0.9 mil (23µ) white, non-fibrous polyester carrier that has a specially designed adhesive on the exposed side and a removable solvent acrylic adhesive on the other that adheres to spray booth walls. This self-wound product is protected by a white glassine paper with a differential release liner, which is removed after application to the wall panels.
Cost-effective ProTect captures overspray and dust particles, reducing static electricity and increasing the lux level in a spray booth. The material can be applied directly from the box, and a squeegee is all that is needed to easily overlap each vertical strip onto spray booth walls.
ProTect is also heat resistant up to 176°F (80° C), but depending on the frequency of use, it should be removed and replaced every three months or after every 1,000 hours of baking. Because the film is non-stretchable polyester, removal is hassle-free.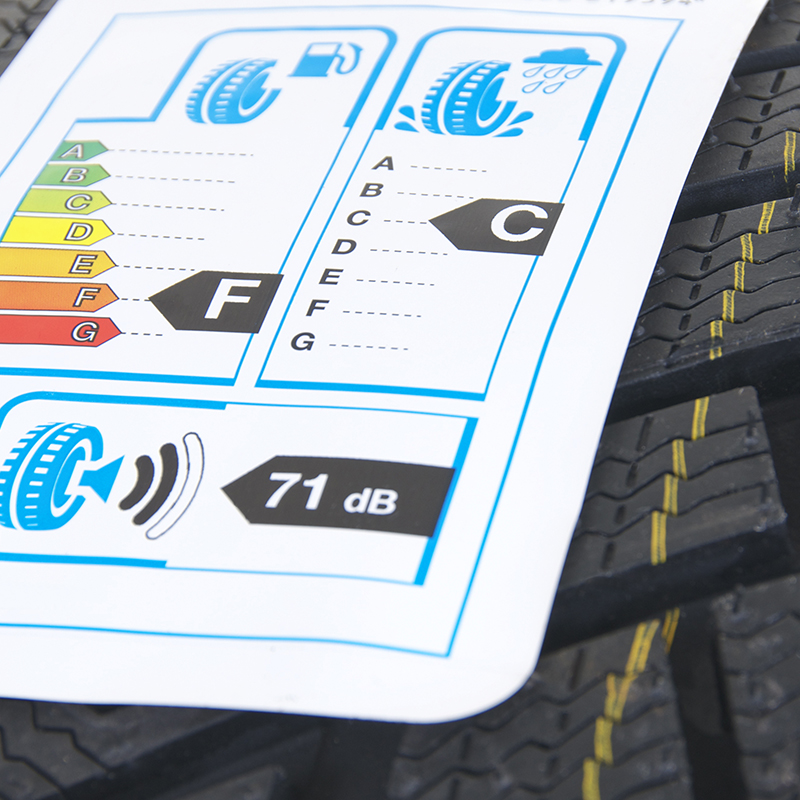 It has never been easier to eliminate tough tire labeling challenges. Specialist labeling technology is necessary due to the rough, low surface energy of a tire. Our adhesive labels are created to meet the performance requirements of automotive tire labeling as our adhesive is rubber-based, pressure sensitive and extremely aggressive.
Our tire labels are durable, remain intact when applied to tread and are ideal for long-term application on tires. We produce two adhesive labels for tire applications – a 2 mil (50µ) white metallized polyester label and a 3.3 mil (85µ) white/grey backed cast polypropylene label. Both have a high coat weight, aggressive rubber-based adhesive and a double-sided siliconized, white S/C glassine release liner.
The higher adhesive coat weights are application specific – a key advantage when considering summer vs. winter tires or hairy vs. shaved tires. Additionally, the high level of shatter resistance allows for one-piece label removal, and the gum pattern at the edges eliminates bleeding. We also offer optional siliconization on the back-side of the label to prevent it from sticking to the release liner.
Each tire tread label has a white printable surface designed for UV flexographic printing, and each performs well on flatbed printers. Both our polyester and polypropylene versions have excellent opacity and resistance to staining as well as superb heat and abrasion resistance. When required, these labels also provide superior thermal transfer printability.
Drytac can create specific solutions for your challenges. Recently, we created a mounting adhesive specifically to meet the rigorous LBC-Living Building Challenge standards. This custom heavy duty, high quality mounting adhesive is a 5 mil (127μ) phthalate free film. It uses a clear 1 mil (25μ) polyester film coated on both sides with 2 mil (50.8μ) industrial extra tacky, pressure sensitive, water-based acrylic adhesive.
Created specifically to meet the rigorous LBC-Living Building Challenge standards, this mounting adhesive is an ideal green solution.
This mounting adhesive film is custom made using an aggressive hi-tack adhesive, making it perfect for low surface energy material and other 'difficult to bond to' surfaces.
With a heat resistance range of -30˚C to 140˚C (-22˚F to 284˚F) and a pH of 6, this adhesive can withstand the elements!
Strengthening a label's bond is our number one priority. That is why Drytac takes strides to ensure its label adhesive can withstand the toughest environmental conditions. Chemical drum labels (GHS – Global Harmonization Systems), hazardous labels, tamper-evident labels, anti-static labels, and identification labels – or any label exposed to the outdoors or other tough setting – demand greater adhesion stability.
Our Teslin™ label face stock is an excellent example of what Drytac has developed to address labeling applications that require added durability. It is a 7 mil (179µ) white synthetic paper coated with an aggressive, pressure sensitive high tack acrylic adhesive and a single-sided siliconized, moisture-stable clay-coated release liner. Not only does it provide outstanding lay-flat characteristics, it is highly resistant to abrasions (scratching, scuffing) and moisture (water, weather).
The product adheres well to corrugated board, glass, fiber drums, and numerous plastic substrates that have low surface energy. It is also thermally stable up to 356°F (180°C), making it compatible with most print technologies, including flexographic, thermal transfer, inkjet, and laser.
Routing Surface Protection Film
Drytac's speciality routing surface protection film is an ideal addition to the signage and graphics industry. Engineered to protect any surface during routing, this easy to apply film can protect any surface from dust, abrasion, and scratching during the manufacturing process. Once complete, the routing surface protection film is easy to remove, leaving no adhesive residue behind.
Protect any surface during routing with Routing Surface protection film, this easy to apply film can be applied to any surface to protect against dust, abrasion and scratching during the manufacturing process.
 Once complete the product can be simply removed leaving a clean residue free surface.
Drytac's routing surface protection film is a 50µ clear matte monomeric PVC that is coated with a low coat weight water-based removable clear adhesive protected by a 72gsm one side siliconized release paper with a printed grid.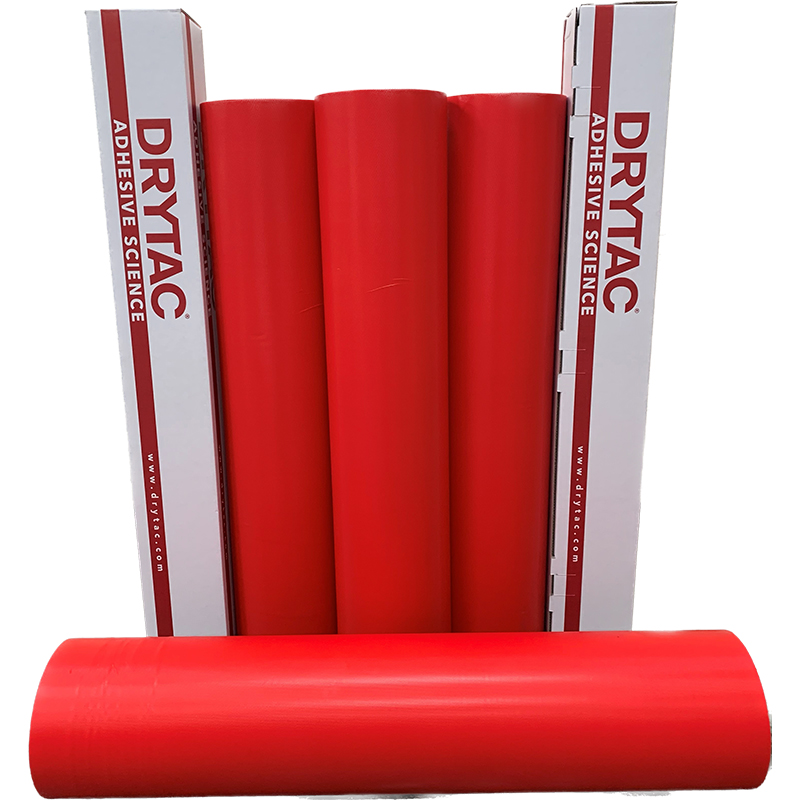 Drytac's Anti-Slip Staircase Protection Film is a heavy duty, synthetic film coated with a pressure sensitive adhesive that can be laminated to MDF staircase panels. It has a deep textured, pyramid emboss pattern that provides excellent anti-slip properties in both wet and dry conditions.
Drytac's Anti-Slip Staircase Protection Film is self-wound with a release coating on the outer face which ensures a smooth unwind from the roll. It has high tear and puncture resistance and is available in a range of colours. It's also possible for the film to be printed with your company logo and contact details.