Still Creek Press has completed an extremely short-term project in Vancouver using Drytac® SpotOn® – a product so easy to apply that the business used the time-sensitive project as an opportunity to train a new employee.
Still Creek Press, based in Vancouver, BC, has provided full-service commercial and wide-format print, business forms and ticket printing for almost 25 years. Currently employing over 70 people in a 36,000 sq ft fully integrated printing plant, with a skilled and dedicated team of creative and technical professionals, the company also regularly sponsors and supports organizations and events in the local community that bring people together.
In early June, Still Creek Press worked with natural health retailer WithinUs to create and install wall, window and floor graphics for a charitable pop-up to celebrate WithinUs' five years in business. As this was a one-day event, the decorative and eye-catching graphics had to be easy to both apply and remove – key features of Drytac SpotOn.
SpotOn – supplied to Still Creek Press by ND Graphics Vancouver – is a 100µ (4 mil) high-quality, ink receptive printable vinyl, compatible with solvent, eco-solvent, latex and UV inkjet printing technology. It is ideal for short-term indoor graphics applications such as wall decals, and can be applied with no special tools, not even a squeegee, meaning it is suitable for use by non-professionals and trainees – as Bruce Lee, Wide Format Manager at Still Creek Press, explains.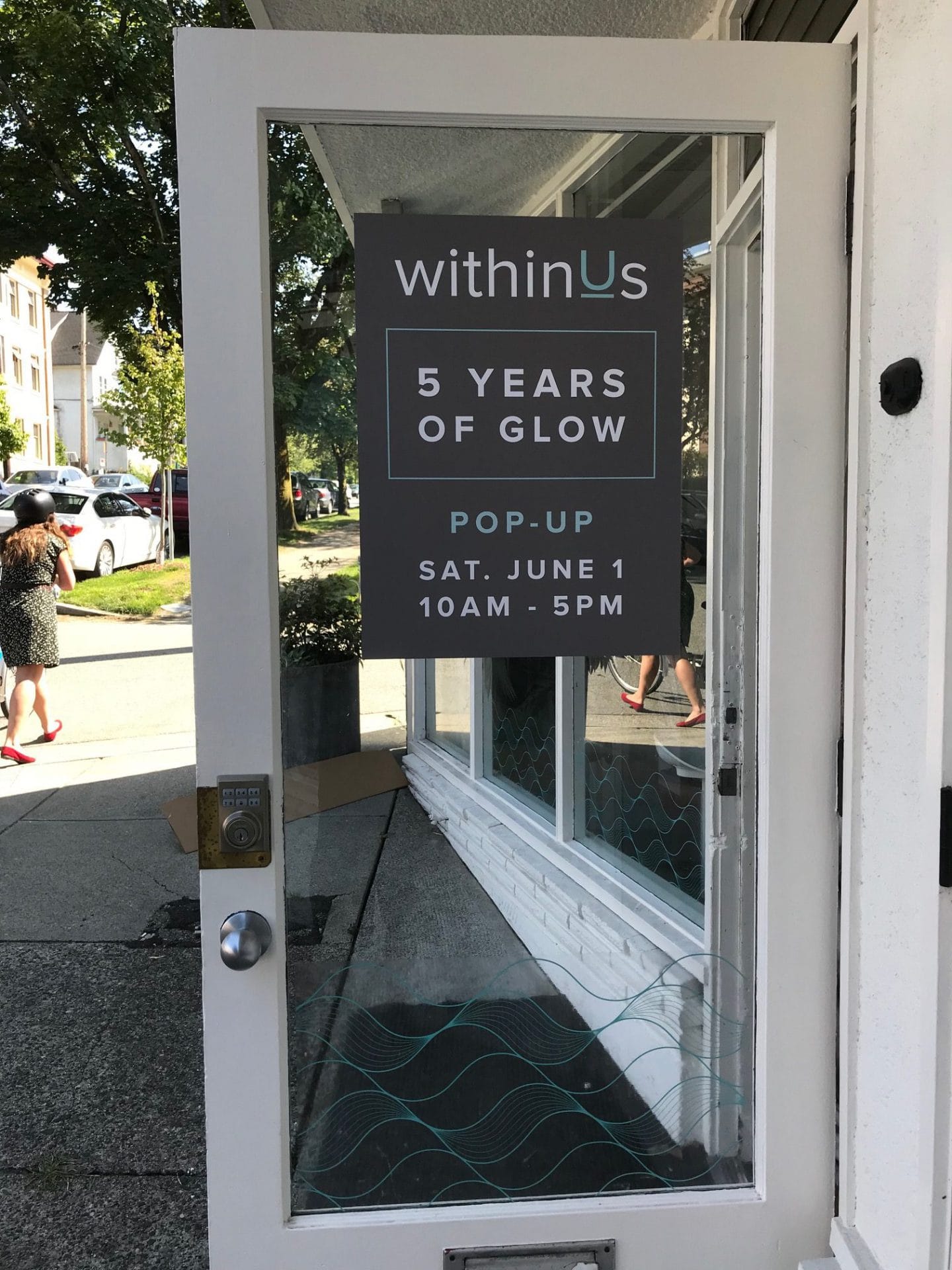 "We chose Drytac SpotOn for a number of reasons," he says. "It was super-easy to apply and it could be easily removed by anyone. In fact I used the event as on-site training for one of my staff members to teach her the ins and outs of an install. We had her apply some of the decals which she did with ease.
"As for the floor decals, it's great we didn't have to use an overlaminate with it because of the built-in anti-slip surface – and, like the wall version, it is easy to apply."
The WithinUs pop-up was in support of Covenant House, which works to support young homeless people in Vancouver. Commenting on Instagram, WithinUs (@withinusnatural) said 'the wall, window and floor graphics looked incredible', adding 'it was a very successful event'.
Still Creek Press uses Drytac SpotOn for a range of projects, with Bruce Lee stating that Peter Bourgeois from Drytac and Ryan Sherriff from ND Graphics 'have been a great help with introducing us to this product'.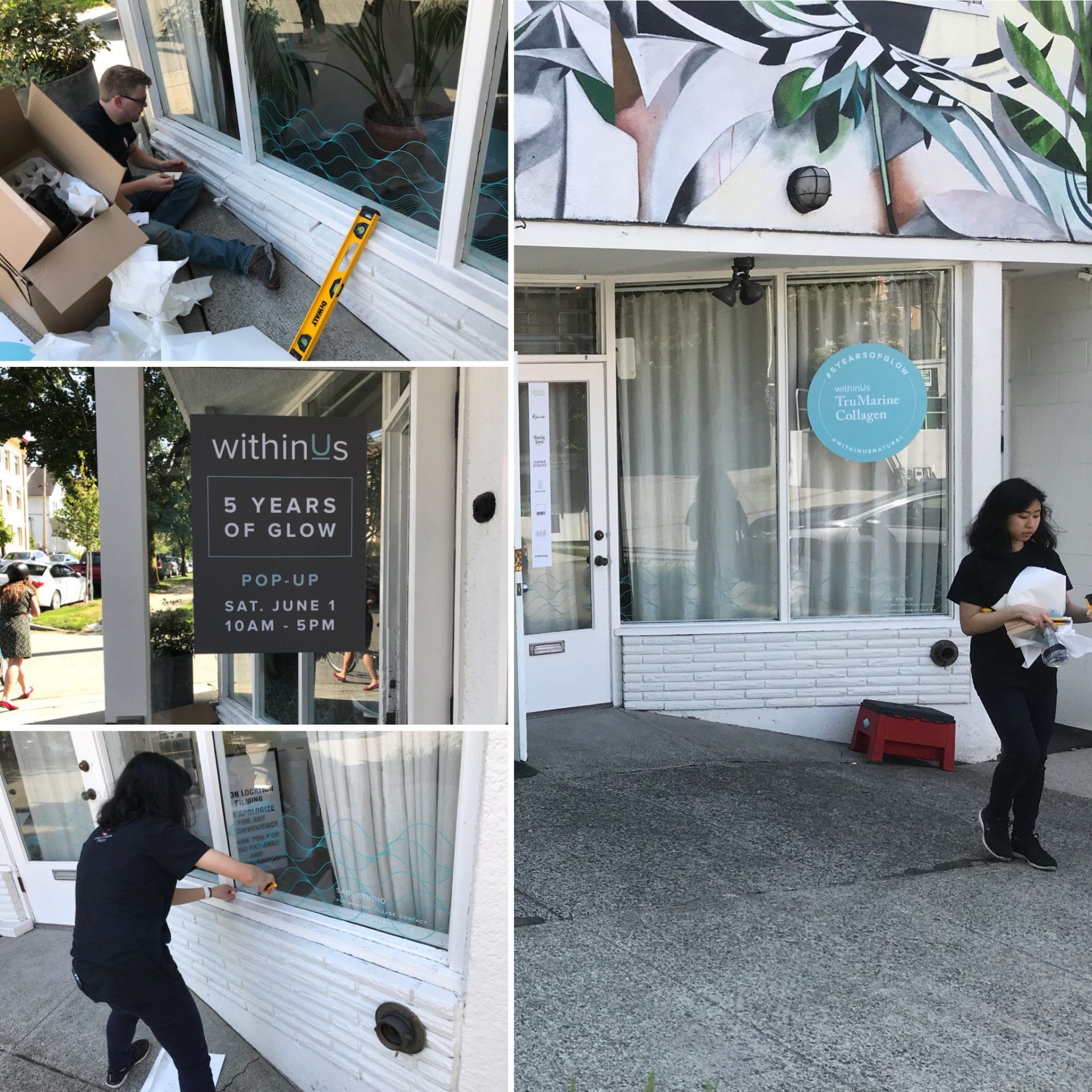 Bruce Lee adds: "After doing numerous tests with this product and other removable vinyls we settled on Drytac SpotOn. Time and time again it outperformed other vinyls and just the feedback from our clients was enough for us. It is, hands down, one of the best removable short-term vinyls out there."
He adds that the Still Creek Press team is currently testing other Drytac products in the field, including ArmourGrab and ArmourPrint, Polar Transit Matte and ReTac Smooth 75.
Drytac is a leading international manufacturer of self-adhesive materials for the large format print and signage markets. Its key product areas include window, wall and floor graphic media, laminating films and mounting adhesives, high-performance tapes, industrial adhesives and durable labels. For more information on this product or Drytac's services, please visit www.drytac.com.