FD Signs has completed a mammoth project to help Transport for London (TfL) passengers abide by social distancing guidelines, using Drytac media to ensure maximum safety.
Based in West London, FD Signs has over 20 years' experience in delivering high-quality sign and graphics projects. TfL is a regular customer for the business but the social distancing project was on a scale never seen before, as Fintan Delaney, Founder and Director of FD Signs, explains.
"TfL needed to prepare for more customers using its services while adhering to social distancing, at a very quick turnaround," he says. "Over a period of ten consecutive, 18-hour days FD Signs delivered 6,000 graphics a day for overnight installation in London Underground stations, by 30 different installation teams. At the same time, we produced other graphics for the Croydon Tramlink, Arriva Trains and Network Rail. In all we delivered in the region of 100,000 social distancing floor graphics."
As well as displaying messages effectively, it was essential that the floor graphics were safe for their environment. Fintan specified a product that is R11-certified for slip resistance, meaning it has been approved for exterior applications and transitional areas that can get wet – ideal for stations on the London Underground network. The media also had to hold relevant fire safety certifications for use in a public space.
The ideal solution was Drytac Polar Grip overlaminated with Drytac Interlam Pro Emerytex, delivered to FD Signs as quickly as the team could print it, says Shaun Holdom, Global Product Manager for Drytac.
"Fast and efficient turnaround was key as the time frame FD Signs was working to was very small," he says. "We were making daily deliveries to Fintan to keep up with his 24-hour production."
Drytac Polar Grip is a white polymeric self-adhesive vinyl that adheres securely to any surface, including floors, metal, plastic, wood, glass and brick, for up to five years. As well as providing the fire safety certification (EN 13501-1) required by TfL, this 80 micron (3.2mil) PVC film is compatible with all major printing technologies – including the Fujifilm Acuity LED 1600 UV printer and the Roland XR640 printer used by FD Signs – to deliver sharp, attention-grabbing graphics.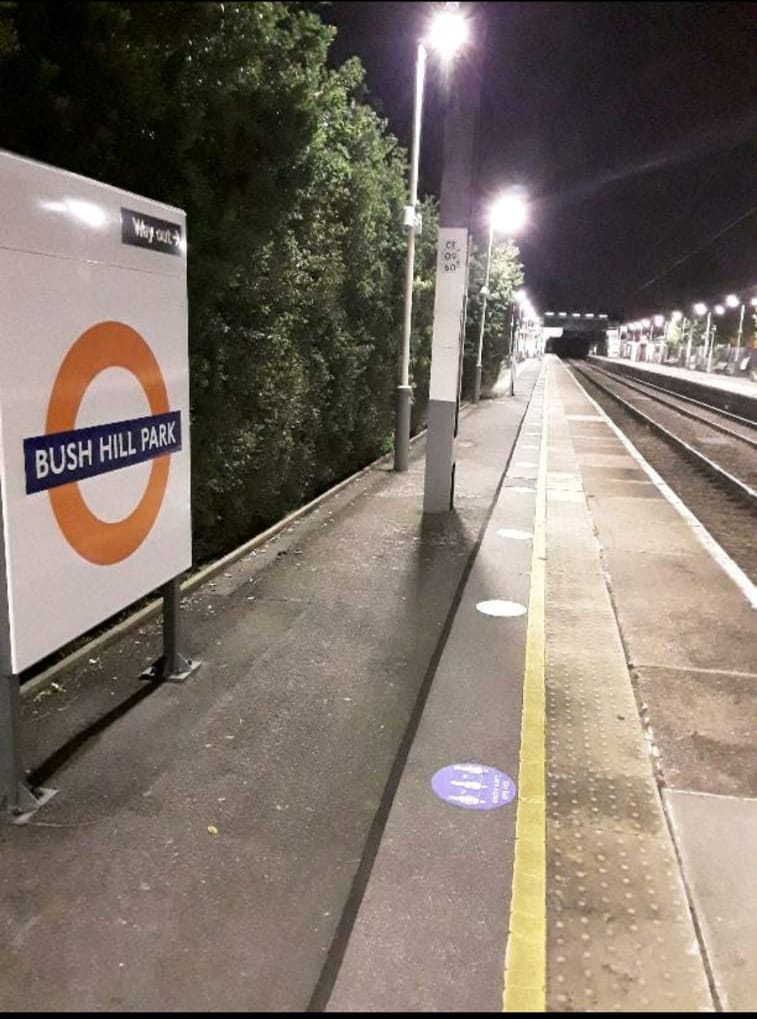 Drytac Interlam Pro Emerytex is a pressure-sensitive overlaminating film that protects graphics from abrasions, UV light, weather and temperature changes to increase durability and longevity. This film has been officially tested and certified for fire safety and holds the R11 slip rating necessary for this project.
Shaun Holdom comments: "We worked closely with Fintan and the FD Signs team to ensure all of the products complied to the strict requirements of the customer, including providing all of the technical information.
"It's an ongoing project and we expect to see more transport operators, retailers and other businesses following suit. Floor graphics have become incredibly important for social distancing but it is absolutely essential that they are safe. Drytac is the market leader and our experts can provide all the advice and support our customers need."