Minuteman Press finds Drytac Polar Premium is perfect for easily applied window graphics in cold environments, relying on the vinyl for a monthly display project.
Material hair salon in Bath has revealed a new look every month, with window graphics printed by Minuteman Press using Drytac Polar Premium. Thanks to Polar's ease of application, each new window display can be installed in under an hour.
Material is a neighbour of Minuteman Press, which runs three different departments from three sites on Bath's artistic Walcot Street. Founded by David Ghent in 1998 as a high-street print shop, the business has expanded to include in-house designers, a digital print and finishing department, a large-format studio and sales and marketing teams.
"We see ourselves as a one-stop shop for all things graphic communication," says Kieran Blacknall, Large Format Manager, Minuteman Press.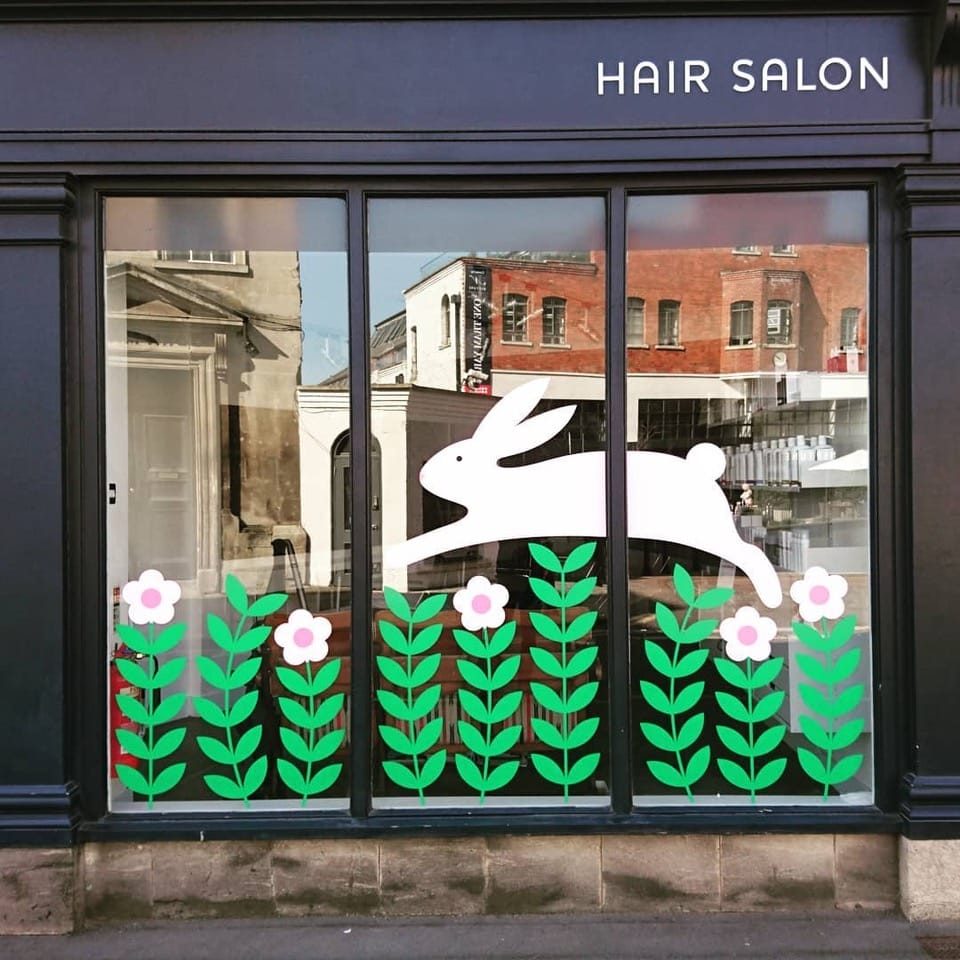 Commenting on the project, he says: "Material wanted to add some colour to the street by having monthly window graphics that tie in with a theme. Every month it's something different so we look forward to seeing what their designer has come up with – we've had bunnies at Easter, lollipops in the summer, fireworks in November. We like to guess what will come next month."
For its regular appointment with Material, Minuteman Press relies on Drytac Polar Premium, an 80 micron (3.2mil) polymeric printable self-adhesive vinyl designed to withstand extreme temperatures and conditions. It is available with a removable adhesive for short-term graphics applications that ensures a smooth, bubble-free finish on application and easy removal without residue when removed.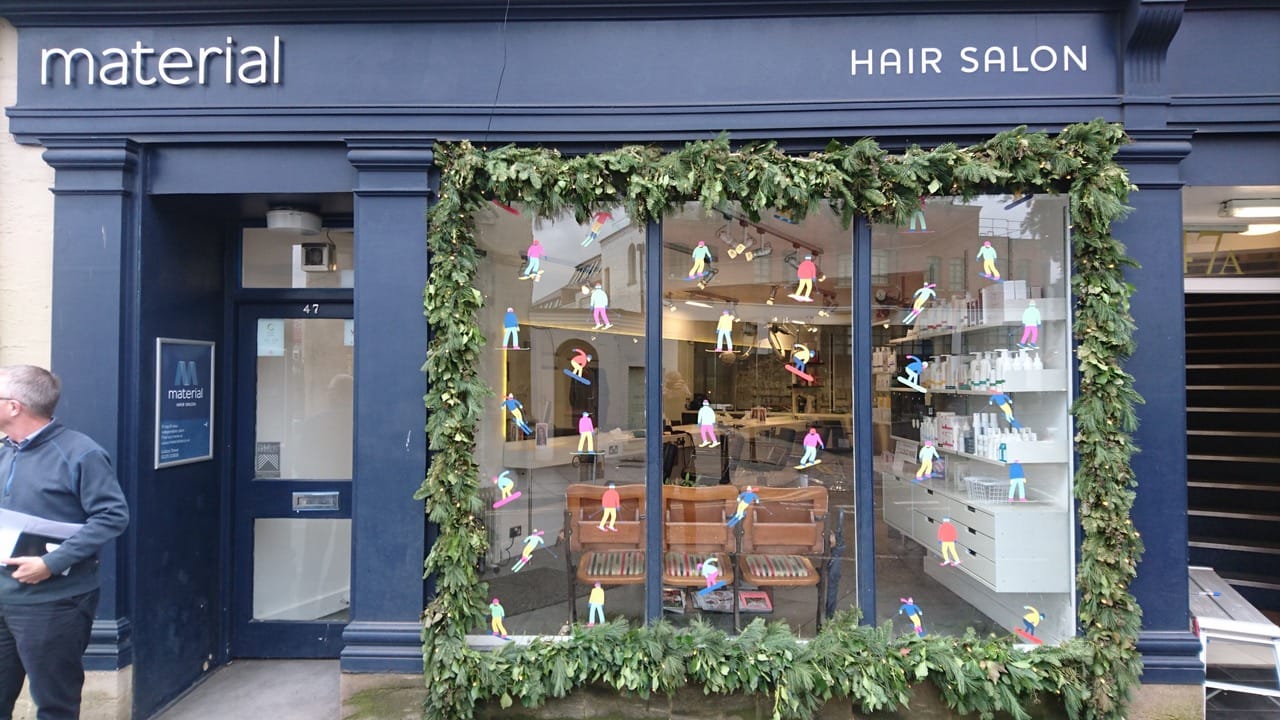 Kieran explains that Drytac Polar Premium – which is printed on its HP Latex 360 and cut on either its Summa vinyl cutter or Valiani flatbed cutter – was recommended by Drytac distributor Antalis.
"It turned out to be one of the best recommendations we've had," he says. "For the Material project we needed a strong and durable product that performs all year round and can be applied quickly: the window graphics are removed and installed within an hour. The salon is on a busy road and is exposed to the elements so it was important for us to use something strong. We tried using low-tac solutions but as the weather got colder the adhesives started to fail, which is not an issue with Drytac Polar.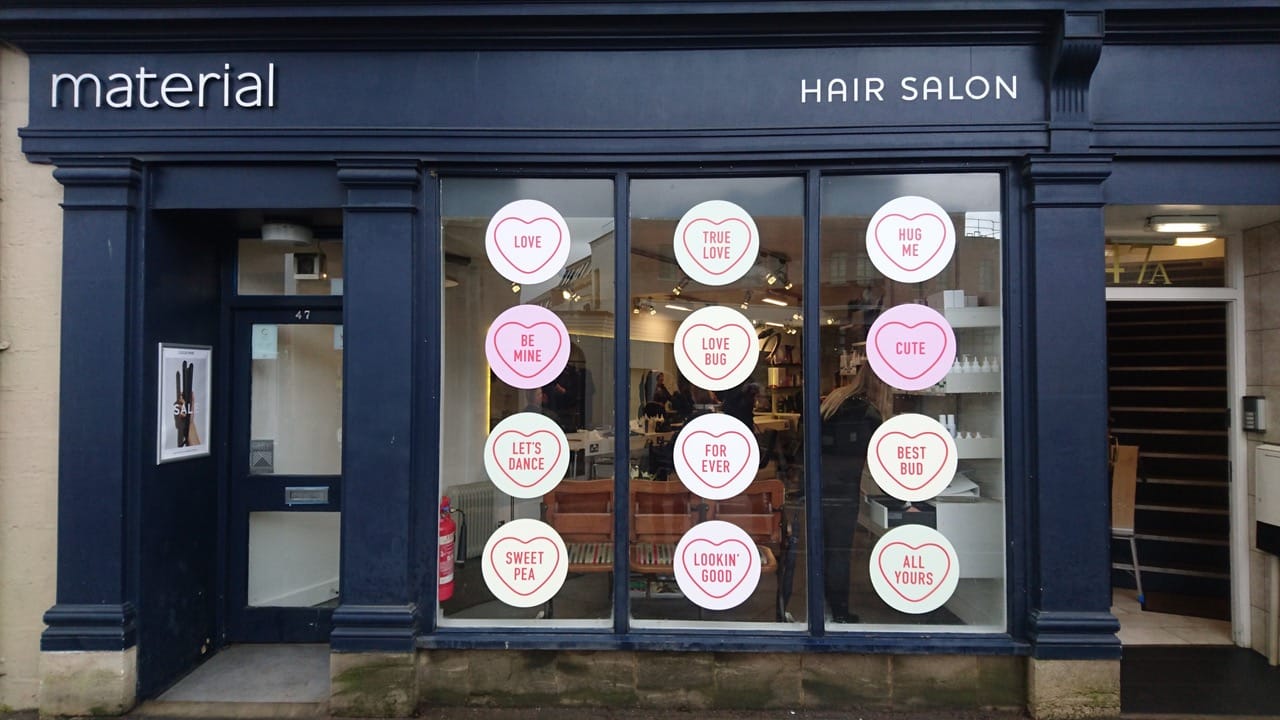 "We find it so easy to install with a water solution, and removing it is easy with the right tools. The fact that it's a polymeric vinyl really helps with removability. We've found that monomeric equivalents tend to break during removing, particularly in cold weather, so I'm happy to use a premium product as it does save us time in the long term.
"We now use Drytac Polar Premium for the majority of our vinyl work, even for simple things like kiss-cut labels and wrapped boards, because it's so reliable and versatile. Using Polar for more jobs has highlighted issues with our previous vinyl media choices; production times and overall product quality have benefited. We also use Drytac SpotOn for floor graphics and we're always looking for ways we can use other Drytac products in the future."
Learn More About Polar Premium: