MK Dons kick off new year with 'amazing' new Drytac graphics
The box office at Stadium MK – the home of MK Dons football club – is now almost unrecognisable with eye-catching wall graphics printed on Drytac® ReTac Textures media, after the decision was made to bring printing in-house.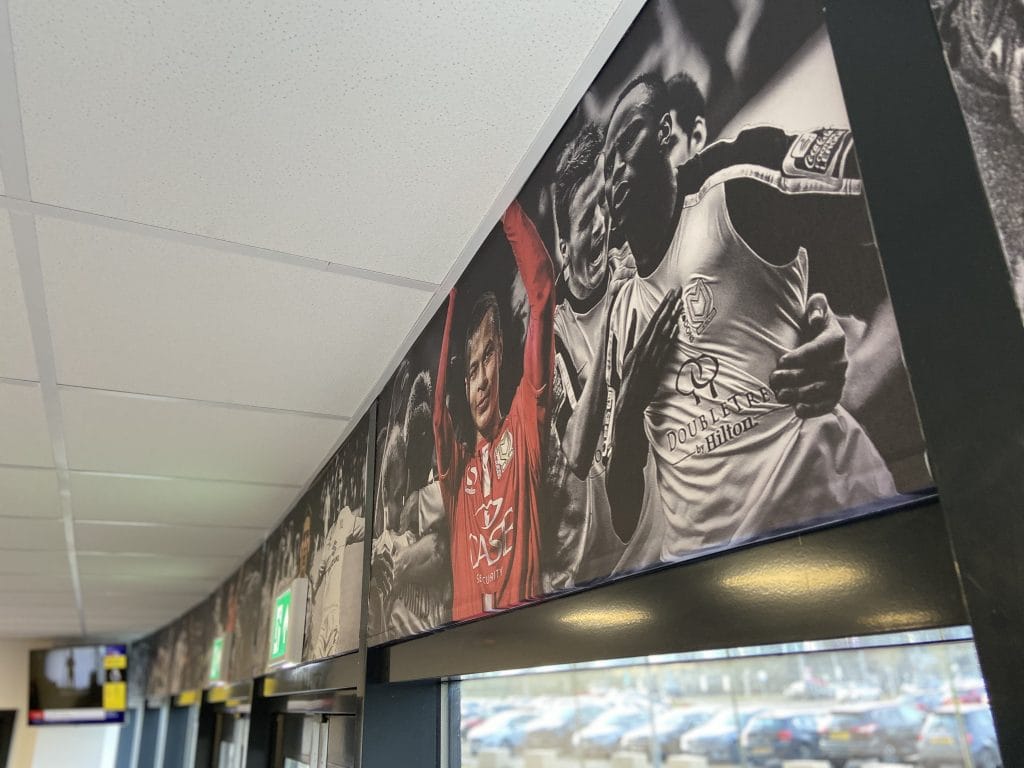 Comprising a 30,500 all-seater stadium, an on-site 304-room hotel and events spaces for conferences, meetings and parties, the Milton Keynes stadium caters for more than just football fans. When a project to add graphics to doors in the hotel was more expensive than expected, the Stadium MK team looked at options for investing in its own printing equipment and producing its own graphics for the complex.
Sue Stead, at Hotel MK, describes herself as a 'print geek' so was excited by the prospect of researching print options and operating the new systems once they were installed. Together with two directors, Sue decided to invest in a Roland TrueVIS VG2-640 printer/cutter and an Easymount laminator.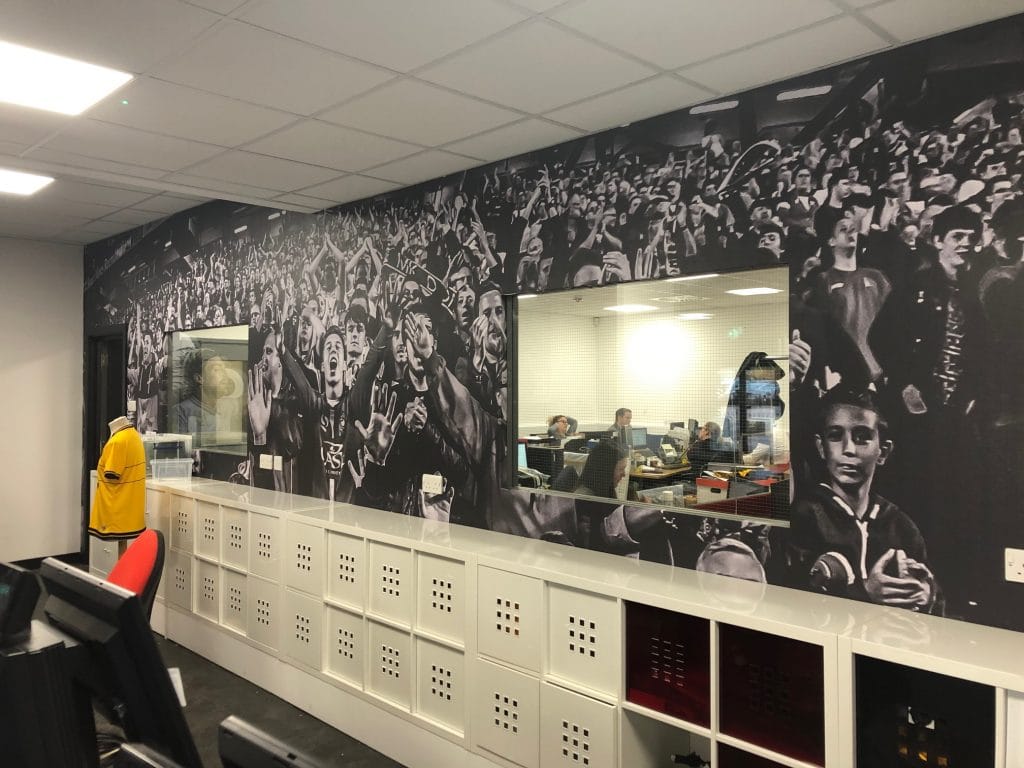 "The print room was set up in September and by October we had started to print wall graphics for our box office," Sue explains. "We'd received some samples of Drytac ReTac Textures and chose the Linen finish for the wall graphics."
Drytac ReTac Textures is a 150μ (6 mil) printable, matte white phthalate-free polymeric PVC film with a choice of embossed finishes – Linen, Sand, Canvas and Woodgrain – which add depth and visual appeal to static, flat images as well as a touchable quality. The product includes the ReTac ultra-removable adhesive backing which enables easy application, multiple repositioning, and clean removal.
In the case of the MK Dons box office project, the ReTac Textures wall graphics were installed by a professional decorator who specialises in wallpaper – and was unfamiliar with the Drytac self-adhesive product – but Sue Stead expects to handle application in-house from now on owing to its ease of use.
"I love the whole ReTac range and ReTac Textures Linen is absolutely wonderful," she says. "It's easier to put up than other products we have used and looks great.
"The new wall murals have made such a difference to the space. Seeing them go from a design on paper, by our in-house designer Dave Corley, to the walls is amazing. We are blown away by the potential – we've been putting pictures on everything!"
The next projects for Sue and Dave were to add graphics to the directors' boardroom featuring the logos of MK Dons and sponsor Suzuki, and FestiveL, a New York City-themed Christmas event. Drytac ReTac Textures is ideal for a variety of applications including interior décor, retail displays, trade show graphics and labels as well as custom wall murals, which gives Stadium MK potential to expand its service offering: the team intends to start selling graphics, printed in-house, to conferences and events held at the complex.
ReTac Textures is compatible with solvent, eco-solvent, UV and latex printing technologies and is available in widths up to 1,370mm (54″). It offers exterior and interior durability of up to five years.