Fans heading to a winter sports complex are set to receive a warm welcome thanks to a new ceiling mural, printed and installed by Branded Wraps using Drytac® products.
Sean Jeffreys, Owner and President of Branded Wraps, has been in the graphics sector since he was a 16-year-old in 1990. He recalls that the first car he ever wrapped was a brand new 1996 Ford F-150, giving him the initial experience required to set up his business – now a specialist in vehicle wraps and lettering. In addition, Branded Wraps has expanded its service portfolio to include interior murals, wallpaper and window graphics.
Based in Ancaster, ON, Branded Wraps has completed several projects for the Sixteen Mile Sports Complex in the nearby city of Oakville, an arena which hosts major hockey tournaments, ice skating competitions, sledge hockey contests and a variety of other events throughout the year. Recently, this has included printing and installing graphics in its main arena entrance.
"It is a mecca for the sports enthusiast and deserved an entrance that showed it," says Sean. "We had already wrapped some of the exterior windows for the arena itself and for one of their tenants, Skate Oakville, who also have the walls surrounding their customer service desk wrapped. Our clients have seen the results from having their interior walls wrapped – how it draws attention to their business even in a busy arena like this one – and they continue to call Branded Wraps to have this work cared for.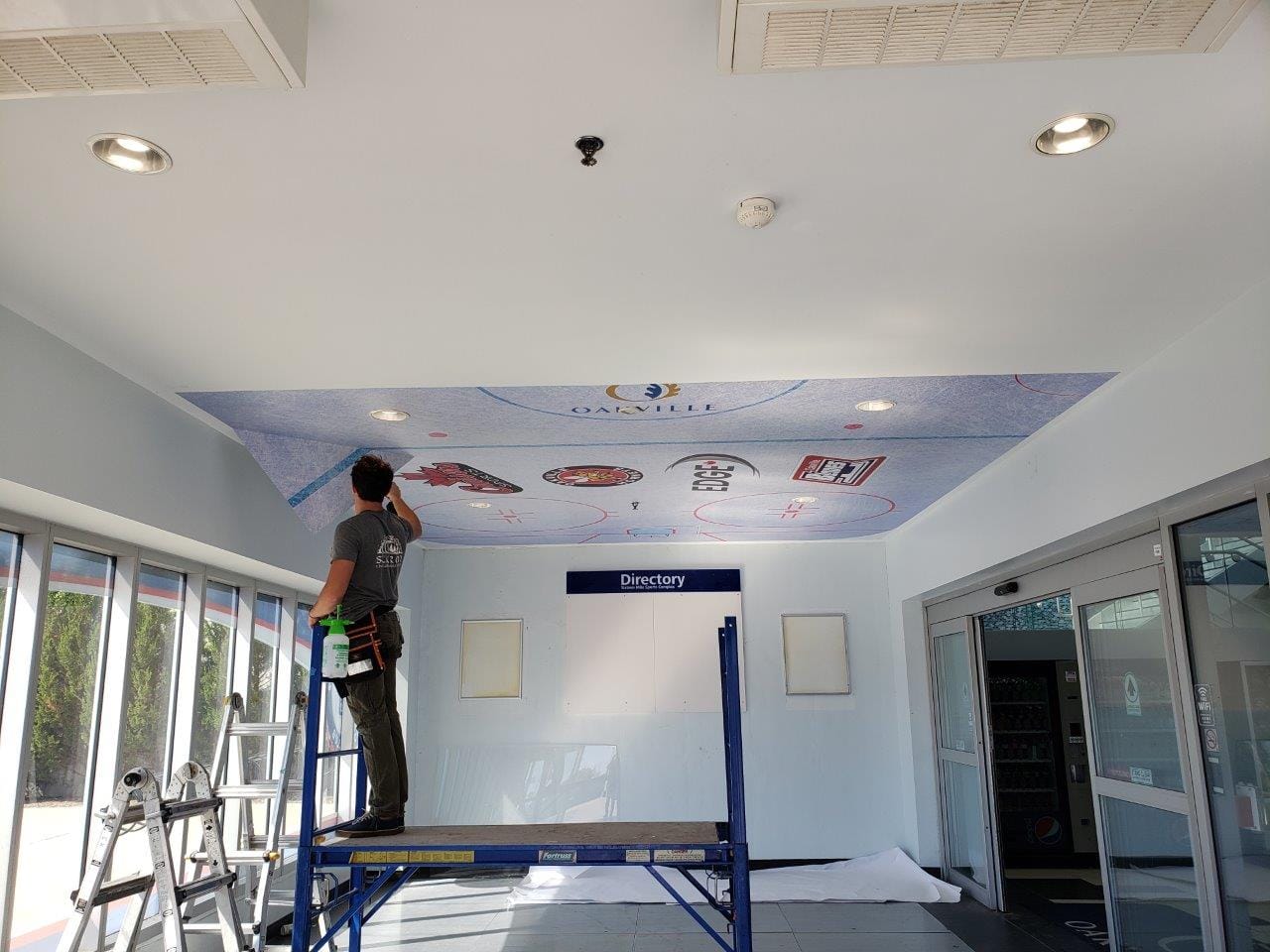 "Sixteen Mile Sports Complex wanted a durable indoor product which would bring the entrance to a whole new level. We immediately thought of Drytac as we love their interior wallpaper products but we were looking for a more permanent adhesive. Our supplier recommended Drytac Polar Premium with matte laminate and it was a done deal."
To create the ceiling graphic, Branded Wraps combined Drytac Polar Premium, an 80μ (3.2 mil) polymeric PVC film with a high-quality, solvent acrylic adhesive, with Drytac Interlam Pro overlaminate film with matte finish. Pairing these two products enables easy installation with excellent durability against UV light, weather and temperature changes.
Sean Jeffreys comments: "Installing a large ceiling mural is not something you want to be doing every day, especially with an overly aggressive adhesive or super-soft or floppy vinyl! The Drytac combination we used worked amazingly well. It was a challenging project but a definite success. Our client emailed us to say, 'Thanks Sean, it looks great!'"
Sean claims that Branded Wraps is Drytac's 'number one fan', having used Drytac Polar for exterior installs in cold temperatures, Drytac Polar Grip for low-energy plastics on vehicle and Ski-Doo wraps, and Drytac ReTac Textures with linen finish for interior walls.
"My wife loves ReTac Textures too since I can wallpaper the rooms in the house for her now!" he says.
Sean adds: "We love that Drytac truly specialises in the adhesive side of the product. The right adhesive makes all the difference when it comes to longevity or ease of removal. We also really love the quality of print; we use an HP 560 Latex printer and the quality of the final print is amazing. Drytac provides awesome print profiles as well, and the service is second to none."