Brisbane-based Rapid Displays used Drytac Polar Premium and Drytac Weathershield to complete an impactful, large-scale wrap of a lorry trailer for long-term customer Big Dog Pet Foods.
Brisbane-based signage and visual displays company Rapid Displays recently used Drytac Polar Premium Air White self-adhesive vinyl paired with Drytac Weathershield Gloss polymeric PVC laminate to produce an impressive and eye-catching wrap for a huge lorry trailer.
Big Dog Pet Foods, a long-term customer of Rapid Displays, contacted the company to wrap the 4m-long refrigerated truck, which travels around the Australian state of Queensland delivering quality raw pet food products.
Being subject to constant travel, as well as the extreme-high temperatures that are common in Queensland, meant Rapid Displays required a film that not only printed well, but would hold up against these intense challenges.
Having worked with Drytac on several other projects over the past year, Rapid Displays opted for Drytac Polar Premium Air White polymeric, paired with Drytac Weathershield Gloss polymeric PVC overlaminate film for additional protection, both of which were supplied by Shann Group.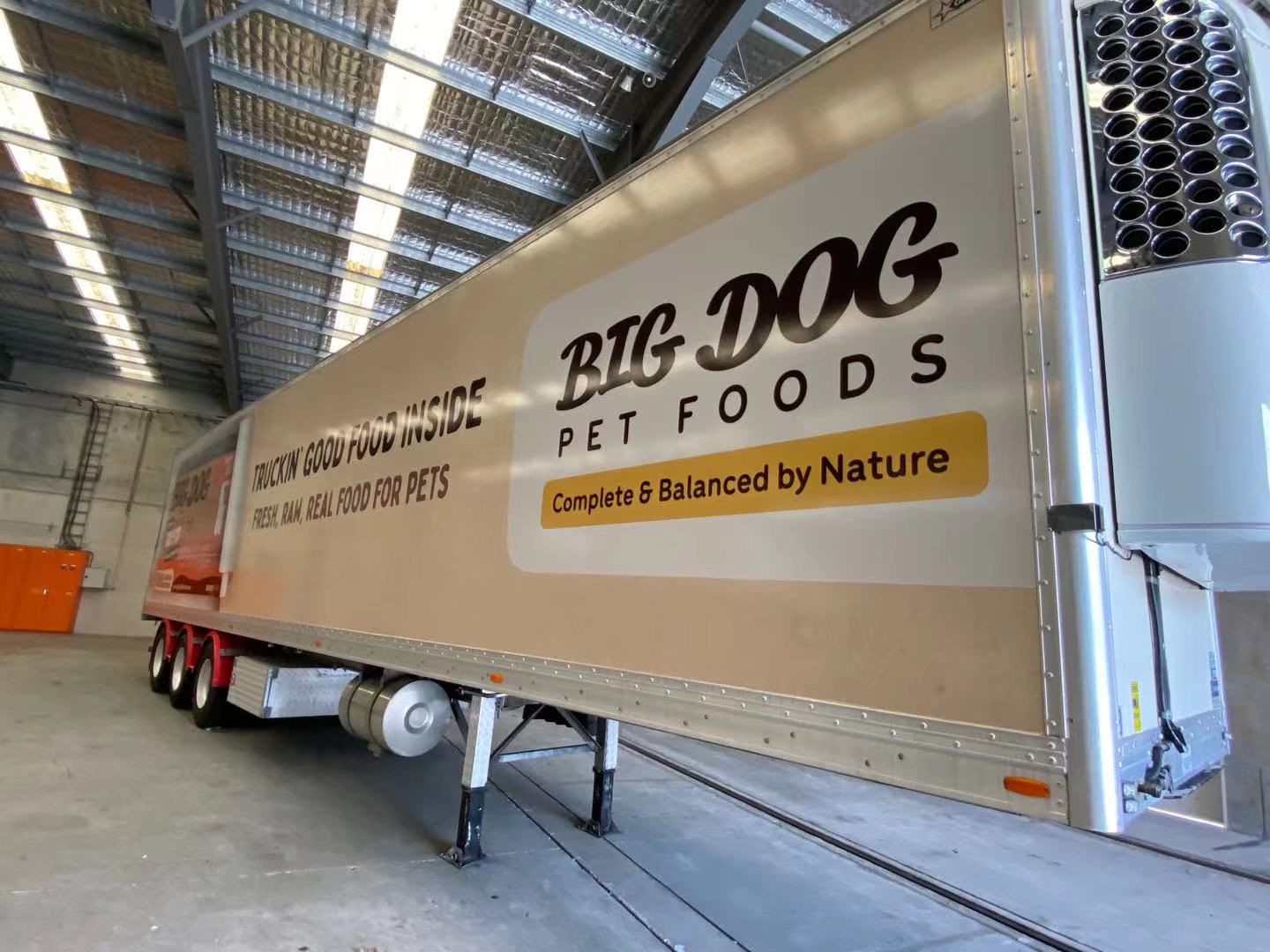 Graphics were printed on a Roland TrueVis VG-640 printer/cutter before being applied to the lorry trailer, delivering a completely new look and helping to promote Big Dog Pet Foods while the lorry is out on the road.
"We needed a film that printed well and didn't have a strong immediate tack," Rapid Displays owner Tim Bateman said. "We were recommended this product and found that it worked perfectly.
"The print quality of Polar Premium Air is second to none. For sharp, striking truck-side graphics, Polar Premium simply could not be overlooked in terms of white point, gloss level, and longevity.
"The quality of Drytac's Polar Premium Air's egress and clean removing adhesive made the installation much easier compared to other competing brands, while Drytac Weathershield Gloss is a dedicated matched component and protective UV overlaminate for 7-year protection.
"Both films combined really created the 'wow' factor on this project!"
Rapid Displays has been using Drytac products on projects for just over a year and Tim Bateman said the company has really felt the benefit the materials offer in terms of flexibility and reliability.
"We have also been using the Drytac SpotOn products for Big Dog Pet Foods, wrapping their freezers for point-of-sale graphics inside shops," Tim Bateman said. "We love both of the products and would have no reason to use anything else."