Roland DGA: Types of inks for digital printing
Understanding how print media and ink technology work is key
The media that Drytac manufactures is part of a larger solution; before any graphics application can be delivered, it needs to be printed and finished.
Understanding how materials work with specific print and ink technologies is a key foundation of the company's product development.
Drytac maintains a close relationship with hardware and ink manufacturers to ensure its products achieve the best results. As part of this close collaboration, Drytac has launched a series of ink blogs written by some of these leading businesses.
In the brief blog that follows, Lily Hunter (above) from Roland DGA explains a bit more about the types of inks for digital printing.
Types of inks for digital printing
Authored by Lily Hunter, Roland DGA Product Manager, Textiles, eCommerce and Supplies
My kids love visiting Roland DGA headquarters to see all the different types of printers and the cool things our inkjets can produce. They typically ask me to print on a variety of things, ranging from banners and stickers to clothing and backpacks. While they know that there are different printers for different types of print jobs, they're still too young to understand the differences between an eco-solvent, UV or dye-sublimation model. In their minds, all I need to do is put an object into whichever printer I choose, and it will magically come out with their customised design printed on it! When I try to educate them, I get blank stares… followed by a request to custom print another item.
I've spoken to a variety of people at trade shows, and even friends, who are interested in learning more about digital printing. Whenever I do so, I break it down to the types of inks and what they're used for. This helps match the application to the best print technology. For Roland DGA printers, here's a quick breakdown of ink characteristics.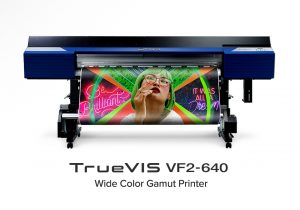 Eco-Solvent
Mild solvent is the carrier liquid for the pigments. During the printing process, the solvent 'bites' into the media and deposits the ink pigments. The heat from the printer platen evaporates the solvent, leaving the output vibrant and dry. These are extremely versatile inks that can be printed onto a variety of media, like decals, posters, signage, canvas and heat transfer paper, allowing for many different types of applications.
UV
Again, mild solvent is the carrier liquid for the pigments. The UV inks lie on the surface of the media or blank, before a UV lamp goes over the printed area to cure or dry the inks. You're able to build up the ink layer and create a variety of textures on either rolled material or flat material. The output is dry and can have a glossy, satin or matte finish, depending upon the UV lamp and curing process. This printing technology is good for signage, promotional products and even fine art.
Dye Sublimation
Water is the carrier liquid for dyes in this process. You print onto a transfer paper, the output mirrored and looking dull and unimpressive at this stage. Sublimation takes place at the heat press, where the inks are transferred from the paper onto a polyester fabric or polyester-coated rigid substrate. At 400°F (204°C), the solid inks from the paper turn into gas and penetrate the polyester – this is when the colours bloom and become vibrant. Dye sublimation is ideal for textiles such as apparel or soft signage, but it's also used for promotional items, décor and metal photo panels.
Pigment
This type of ink, where water is the carrier liquid for the pigments, is used in Roland DGA's compact direct-to-garment (DTG) printer, the VersaSTUDIO BT-12. Just like with UV, the inks lie on top of the surface of the fabric, typically cotton-based products. Colours are vibrant, but the inks still need to be cured, which is done on the heat press. Unlike dye sublimation, the inks do not penetrate the fibres, but are cured on the surface.
To learn more about Roland DGA inks, printers, and applications, visit https://www.rolanddga.com/
About the author: Lily Hunter currently serves as Product Manager, Textiles and Consumable Supplies for Irvine, California-based Roland DGA, where she manages Roland's textile and dye-sublimation printer portfolio, as well as the company's media product line. Prior to joining Roland DGA in 2013, Hunter held various sales support and product management positions over a 14-year period with Arlon Graphics.
About Drytac ICC Profiles:
Drytac understands that media profiling is key to the success of any of its products; having access to thousands of profiles for materials on a wide range of different printers is paramount. By working in tandem with hardware manufacturers, Drytac creates easy access to profiles.
Drytac also has the in-house capability to provide custom profiles as required for its customers for any specialist application, to maximise the colour output. More information can be found here.