Warwick Printing builds excitement for new store with striking Drytac graphics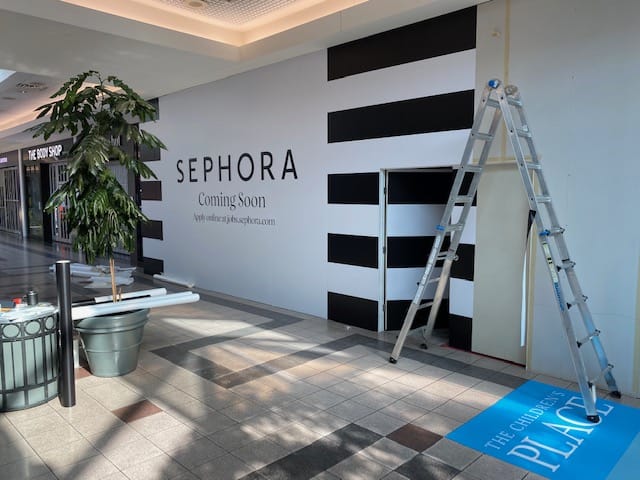 Warwick Printing has installed a huge storefront wall graphic using Drytac ReTac, building excitement for a new beauty store.
Founded in 1995 as an offset press commercial printer, Warwick Printing has increasingly moved into digital printing and adopted wide format technologies in the last two years. This has helped the Lethbridge, AB business to increase its client base and to offer new services to its existing customers.
In March 2020 Warwick Printing undertook a substantial wall graphics project to promote a new Sephora store in Park Place Mall in Lethbridge. Sephora sells cosmetics and beauty products from over 2,600 stores in 34 countries around the world, attracting loyal customers and a significant following online.
Lee Weighill, Owner of Warwick Printing, says that it 'seems many people are excited about this store judging by the comments heard during the install'.
He explains that his team worked with a USA-based design firm on the hoarding, which measured 54′ wide by 12′ high (16.5m x 3.7m).
"We did a site survey, sent the updated specs to their design team, and had the files back printed and installed within four to five days. The actual install took about six hours," says Lee.
"We chose Drytac ReTac because we have used it previously and know the properties of it, what to expect when printing and installing. Because the panels were very wide (52″) and were over 12 feet tall we wanted a fairly thick, stable vinyl and also one that would be easy to remove in a couple of months."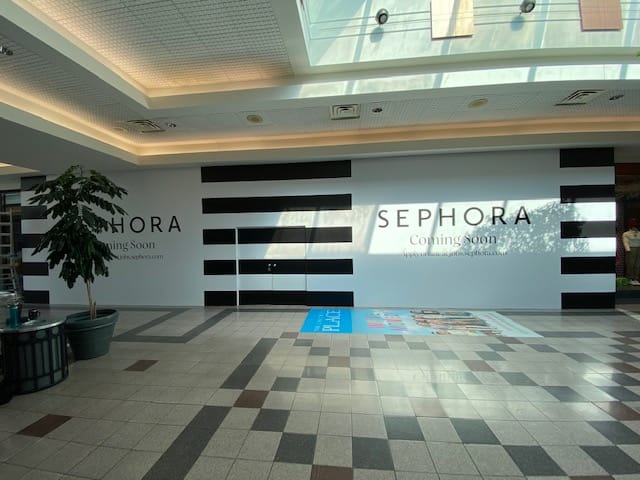 Drytac ReTac Smooth 150 is a polymeric printable PVC film coated with ReTac ultra-removable adhesive technology. This enables easy installation, repositioning and removal of indoor wall graphics, even on curved, textured or angled surfaces. ReTac Smooth 150 has several fire ratings, making it suitable for public areas that require compliance with strict fire regulations such as malls and retail stores. This 150 micron (6 mil) product is available in matte and gloss finishes and is compatible with latex, UV, solvent and eco-solvent printing technologies for stunning wall graphics.
"We use Drytac products whenever possible because they perform excellently for us, both printing and installing," says Lee. "We use on a regular basis ReTac Smooth and Textures in the Canvas finish, SpotOn, Printable Eclipse for banners, Polar polymeric films and Polar Premium, Interlam Pro textured laminate and have recently done a few projects with Polar Chrome Silver Satin which is really cool stuff. We love all the Drytac products we have used so far, all are excellent."