Steward Safety Supplies used Drytac Polar Premium Air White Gloss and Drytac Weathershield Matte UV to create the professional mobile fish and chip van.
Norfolk-based signs service provider Steward Safety Supplies combined Drytac Polar Premium Air White Gloss print media and Drytac Weathershield Matte UV laminate to produce a set of bold and impactful vehicle graphics for long-term customer French's Fish Shop of Wells-next-the-Sea.
Local to Steward Safety Supplies' facility in Fakenham, French's Fish Shop has been a client of the signage specialist for more than 10 years, partnering for projects such as menu boards and adverts.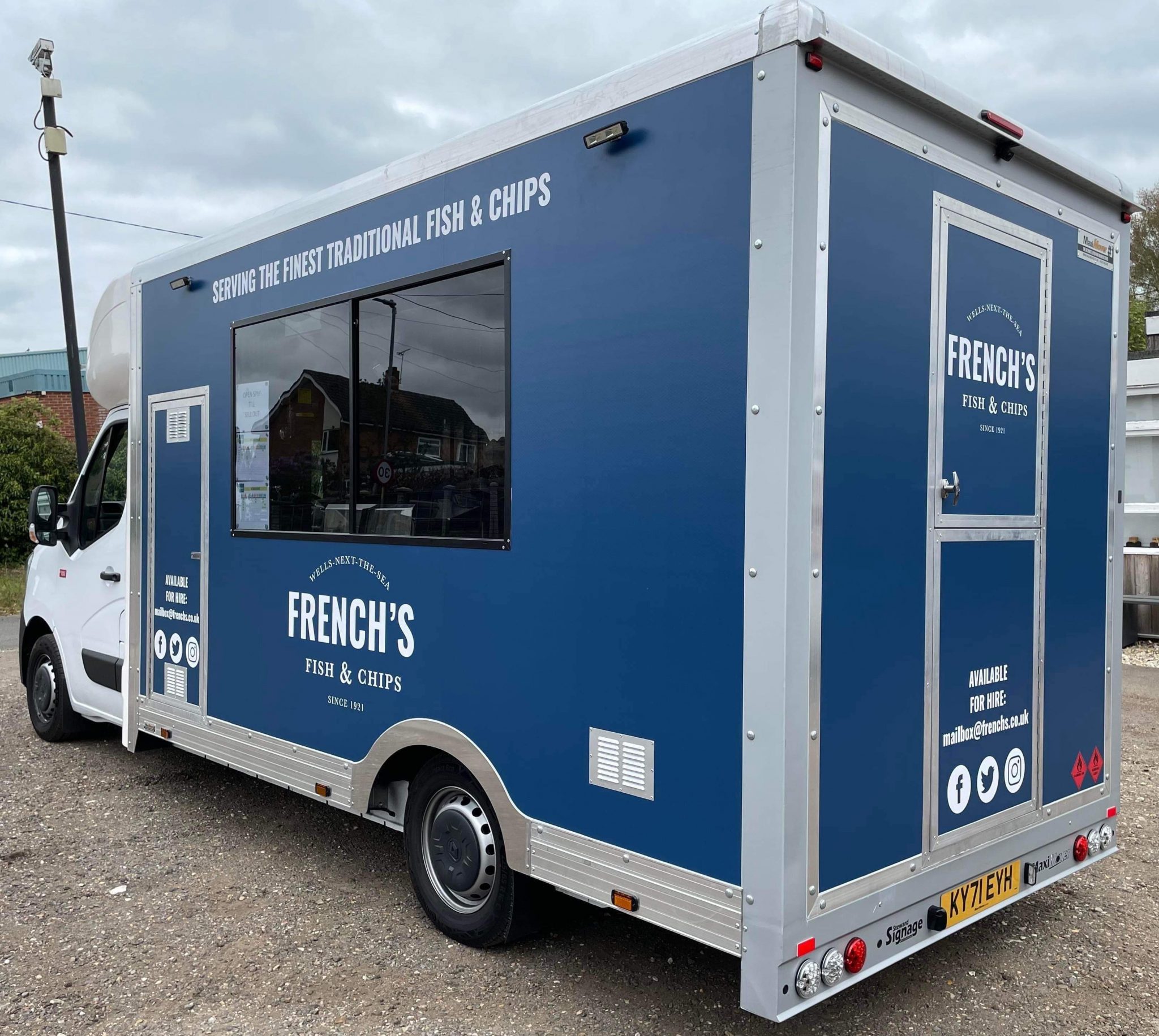 After securing a new contract for a local holiday park, French's Fish Shop purchased a van to cater for customers at the location. French's Fish Shop approached the team at Steward Safety Supplies to produce graphics to match the traditional branding at its shop.
Steward Safety Supplies quickly identified two solutions from Drytac that would allow it to deliver an on-brand, high-quality solution. The sign-maker selected Drytac Polar Premium Air White Gloss combined with Drytac Weathershield Matte UV, supplied by UK reseller Perfect Colours,for the project. The graphics, which were installed in March 2022, were designed using CorelDraw software, before being printed on an HP Latex 310 printer.
"We printed the van graphics in sections and applied it like wallpaper, neatly trimming around all the fixtures and fittings on the van," Steward Safety Supplies' Sign Department Manager Ben Steward said. "The white lettering was then cut and applied on top."
"We also made some menu A-boards to place outside the van and used some left-over media to cover the tabletop used for the accompanying sauces and cutlery, adding even more value for money. Those additional touches are what makes us who we are."
"The customer was so impressed with the transformation of their plain white vehicle into this classy fish and chip van. As its planned location is a high-end seaside holiday park, the 'less is more', clean cut, on-brand professional look was exactly what they wanted."
Steward Safety Supplies only began using Drytac products in January this year, but such has been the success of its use of Polar Premium Air and Drytac Weathershield Matte that this combination has now become the pairing of choice for 95% of the company's work.
"The ease of application due to the air escape technology, the forgivingness of the polymeric when fitting to more awkward places, the quality of the matte finish, and how magically – no matter how hard you need to apply it – it doesn't show a scratch; we just love it," Ben concludes.